A strong brand, underpinned by trademark, copyright and design rights, is one of the most valuable assets a company possesses. However, brands, and the goodwill that resides in them, require careful management and can be placed in grave risk if not properly nurtured, managed and protected.
Against that backdrop, World Trademark Review (WTR) is the trusted and indispensable source of news, intelligence, strategic analysis and data focused on the management of trademarks, designs and related intellectual property. Drawing on an unparalleled network spanning the corporate, law and attorney firm and government environments, WTR offers in-house experts and private practitioners an intelligence service that informs commercial and legal decision-making.
When protecting your trademark in the US courts, Docket Navigator provides one of the most comprehensive litigation intelligence platforms available, allowing you to effortlessly track cases and drill down into the data quickly for actionable insights.
WTR's more than two decades of experience in the industry gives it a depth of proprietary data on law and attorney firm performance that is unrivalled in the market. Users can interrogate that data to benchmark themselves against competitors and better prosecute their own growth strategy.
Our ability to connect the community also allows us to offer a series of events from tight-knit networking opportunities to larger conferences, bringing the debate to life in front of the most prominent practitioners in the field. WTR also hosts the annual industry awards acknowledging the achievements of the world's top in-house trademark teams and their leaders.

World Trademark Review is the world's only independent daily news and information service dedicated exclusively to reporting on trademark issues for in-house and private practitioners internationally.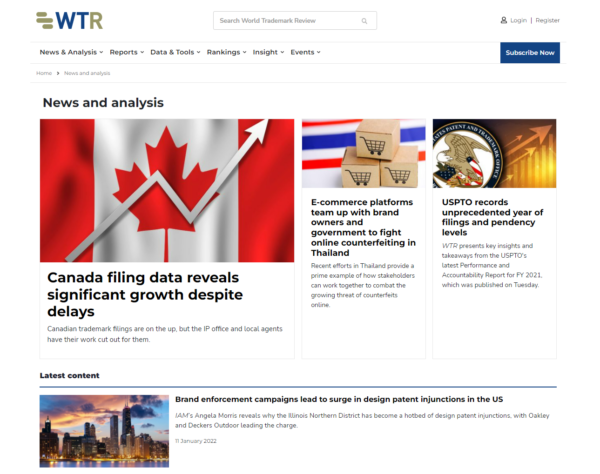 News and Analysis
WTR's market-leading content provides critical insight into the strategies employed by the world's leading companies and law firms, data deep dives into critical industry issues, early warning of emerging threats, and analysis of the latest case law – helping the community to future-proof their operations, better serve clients, avoid costly missteps and keep abreast of the latest industry developments. Our dedicated performance data analysts support legal practice benchmarking, while our networking solutions experts help the industry develop meaningful connections.
Litigation Analytics
Docket Navigator monitors, categorises and provides attorney-written summaries of all US trademark litigation, creating the most detailed, most accurate, and most comprehensive litigation intelligence platform available. Docket Navigator allows users to chart a path to the best possible outcome with accurate, detailed and configurable analytics based on multiple data points.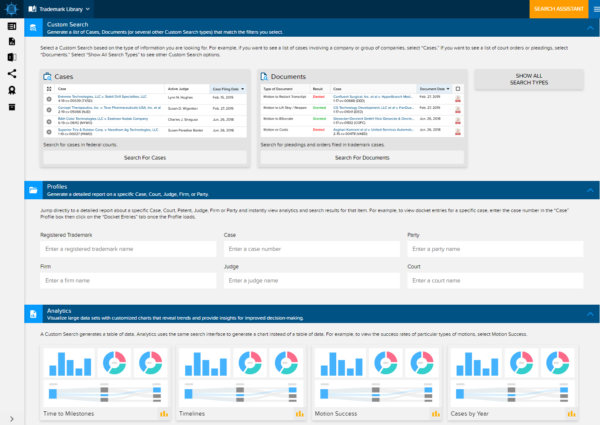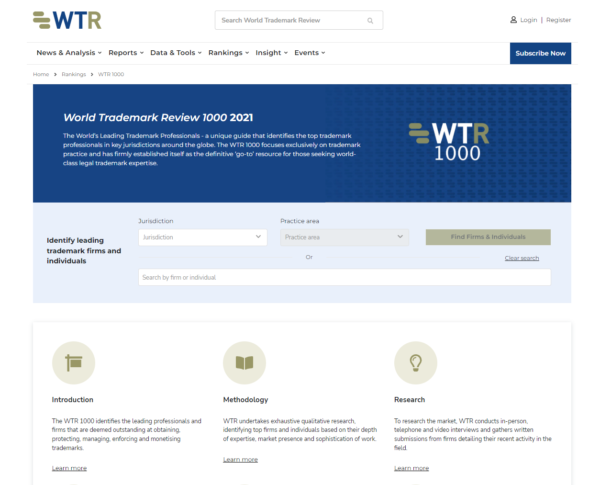 WTR 1000
The WTR 1000 guide, which focuses exclusively on trademark practices and practitioners, has firmly established itself as the definitive go-to resource for those seeking world-class legal trademark expertise. World Trademark Review undertakes an exhaustive qualitative research project to identify the firms and individuals that are deemed outstanding in this critical area of practice. When identifying the leading firms, factors such as depth of expertise, market presence and the level of work on which they are typically instructed were all taken into account, alongside positive peer and client feedback.