As part of ongoing performance developments to ensure that Lexology delivers the best legal intelligence platform for our users, we have now introduced Lexology PRO.
Lexology PRO offers users additional features, from a powerful AI search to innovative sharing, organising and annotating features – each designed to streamline your workflow. With the new workflow tools now available on the platform, you can create and share unlimited folders, add custom notes to folders and create custom PDF briefings that can be shared freely.
Director of Product and Innovation at Lexology, Alex Morrall, said "It's an exciting time for Lexology as we have now introduced Lexology PRO which will give lawyers more tools to streamline their workflow. We are always looking to the future to further enhance the Lexology platform and we believe PRO is the perfect addition to the Lexology family."
Clipping and saving articles 
Our Clipping and Sharing feature allows you to save articles on key topics for later and then share them with your wider team. Highlight some text within an article to activate the clipping function, and then file that content in your saved folders.
More folders, more notes and more briefing notes
Clipping and Sharing allows you to organise your clippings, articles and notes into customised folders that cover your areas of interest. Just click on the briefcase icon to manage your clippings.
Once your selected clippings are in a folder, you can automatically create a briefing note, collating your clippings into a report to share with your team.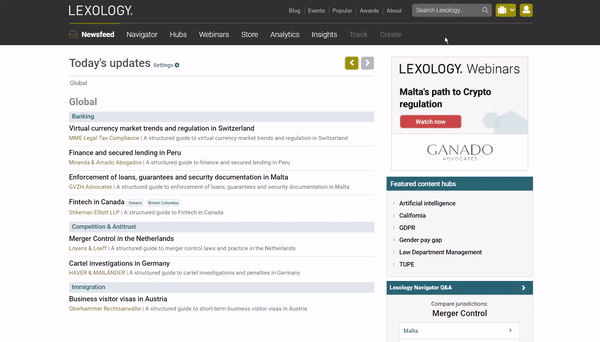 Room to share
Share clippings, images, articles and folders with your team at the click of a button. Once you have shared a folder with colleagues, they will continue to see any changes and additions you make to that folder.
Use clipping, saving, briefing notes and sharing to optimise your navigation of Lexology's extensive archive of over 800,000 articles.
For more information or to subscribe to Lexology PRO, click here.