Overview
Following ongoing updates to the Lexology platform, we are excited to introduce Lexology Learn – an interactive hub designed to connect you to our global roster of expert lawyers, consultants and vendors through video.
Lexology Learn covers a wide range of sectors, providing you with short, timely clips to help you get up to speed with the latest developments in your chosen field of law. It features on-demand, bite-size overviews of a broad range of issues – from "What is blockchain?" to "Accommodating difference in the workplace".
Whether you're looking to research popular topics or share your own expert knowledge, Lexology Learn has a wide range of benefits.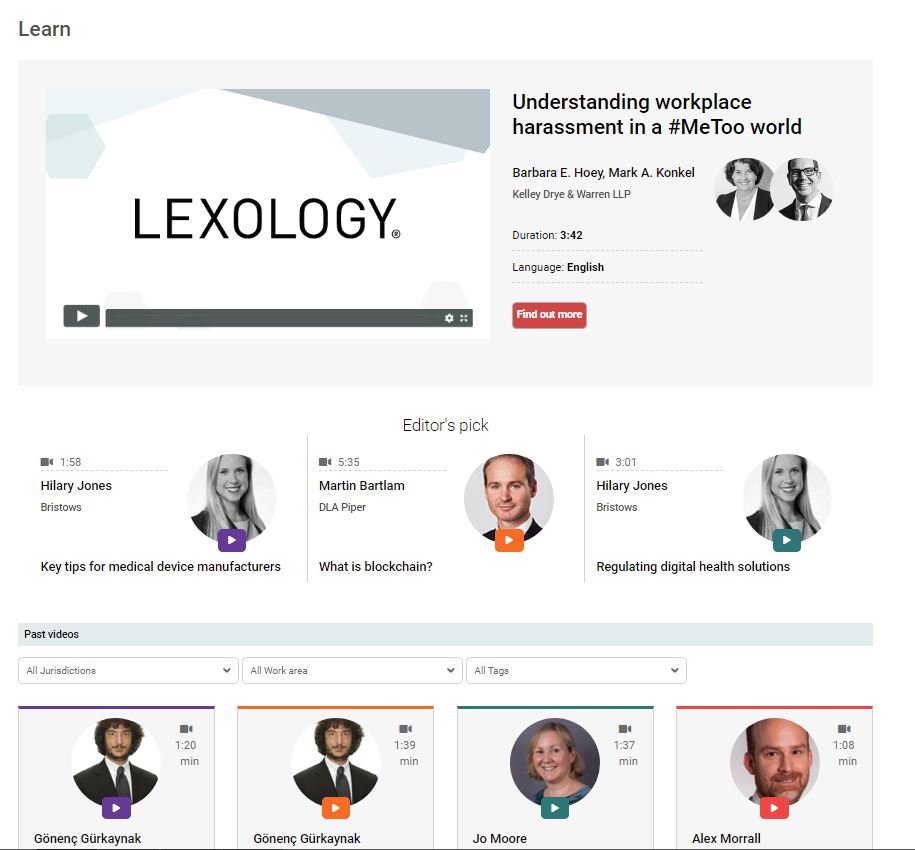 Why Lexology Learn?
As an interactive hub, Lexology Learn is designed to enhance your experience by enabling you to view video content on popular topics from our global roster of professionals.
All of our video content is available for you to access and share in order to support you in your role.
The power of video
Hubspot recently reported that 54% of consumers want to see more video content from a brand or business that they support, and Lexology Learn enables you to benefit from this new trend.
Video is more creative and engaging than standard text informative pieces, and an increasing number of brands are expected to opt for video-based ads to convey their messages to customers in a timely manner.
Promotion opportunities
Do you want to contribute to Lexology Learn and share your knowledge on related legal topics? By using video in your digital marketing mix, you can create emotive videos that appeal to your customers' needs and cover the most sought after topics in the legal industry.
Contact us here for more information on our promotional opportunities.
Visit Lexology Learn here.