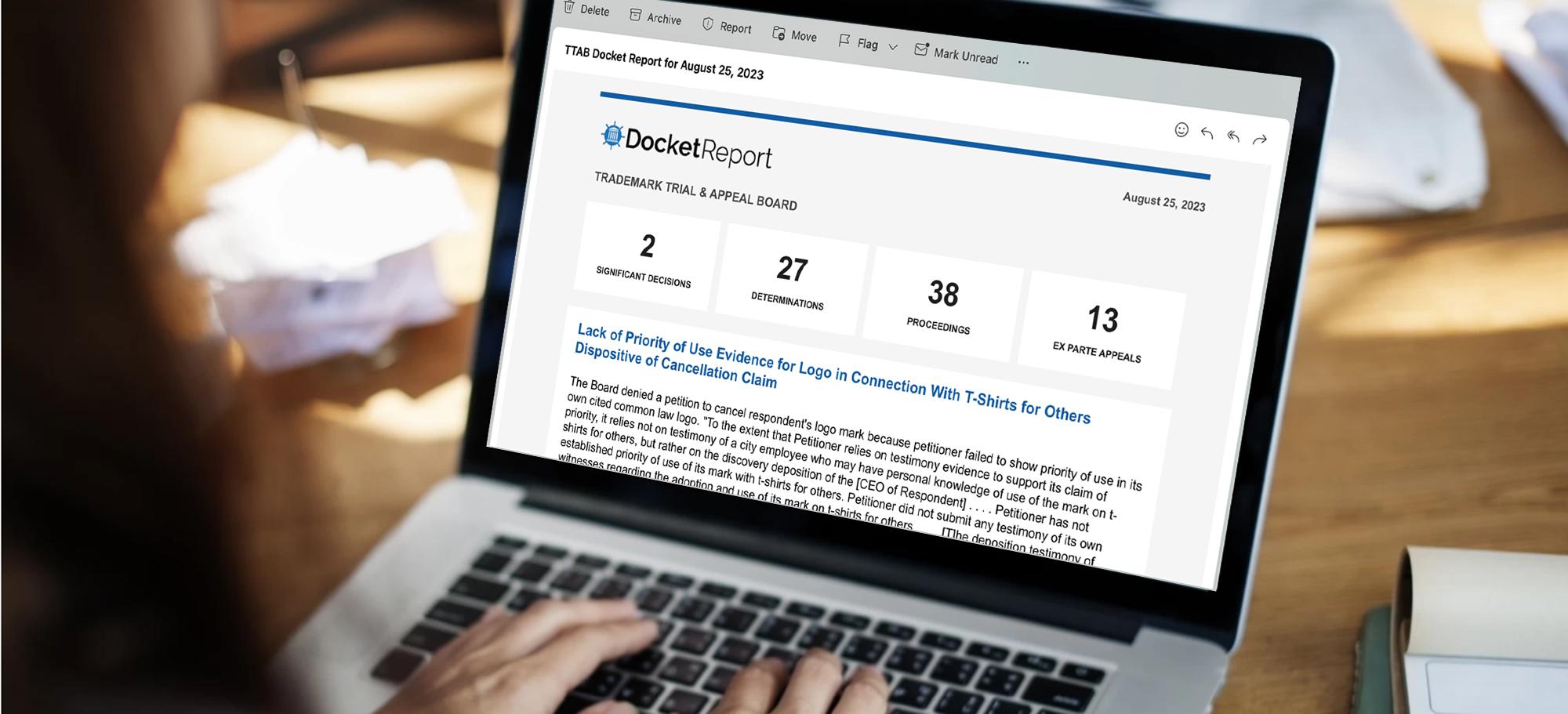 Docket Navigator launches TTAB data library
LBR's Docket Navigator has expanded its trademark coverage to include filings and outcomes at the Trademark Trial and Appeal Board (TTAB).  
The Docket Navigator litigation analytics platform – part of the Law Business Research portfolio – enables users to interrogate data focused on US patent, copyright, antitrust, trade secret and securities litigation. It also boasts an extensive trademark library, which has historically focused on US district court cases involving trademark and Lanham Act claims. Following last week's major update, the platform has added data from the US Patent and Trademark Office's TTAB to that library, providing an indispensable resource for tracking the latest challenges to trademark registrations in the country. 
As well as enabling Docket Navigator users to interrogate the data through customised searches, Docket Navigator's experienced attorney editors will provide daily summaries of legal decisions in the TTAB through the TTAB Docket Report. By incorporating the TTAB library, we are adding significant depth to the service provided, enhancing the overall user experience for Docket Navigator subscribers. 
This launch speaks to the continued integration between Docket Navigator and LBR since acquisition in 2021. Through deep collaboration, the team has delivered continued product improvements and data enrichment, driving the growth of our rich, unique proprietary data platforms. 
About Docket Navigator 
Docket Navigator is the leading litigation analytics platform covering patents, trademarks, copyright, trade secrets, antitrust and securities cases.  
About LBR  
Law Business Research is a global legal information services business providing intelligence platforms, legal analysis tools and networking across multiple legal practice areas. LBR brands Docket Navigator, IAM, World Trademark Review (WTR) and Global Competition Review (GCR) provide unrivalled coverage and in-depth analysis across the IP and antitrust practice areas, offering subscribers insight, intelligence and networking opportunities to support decision making.