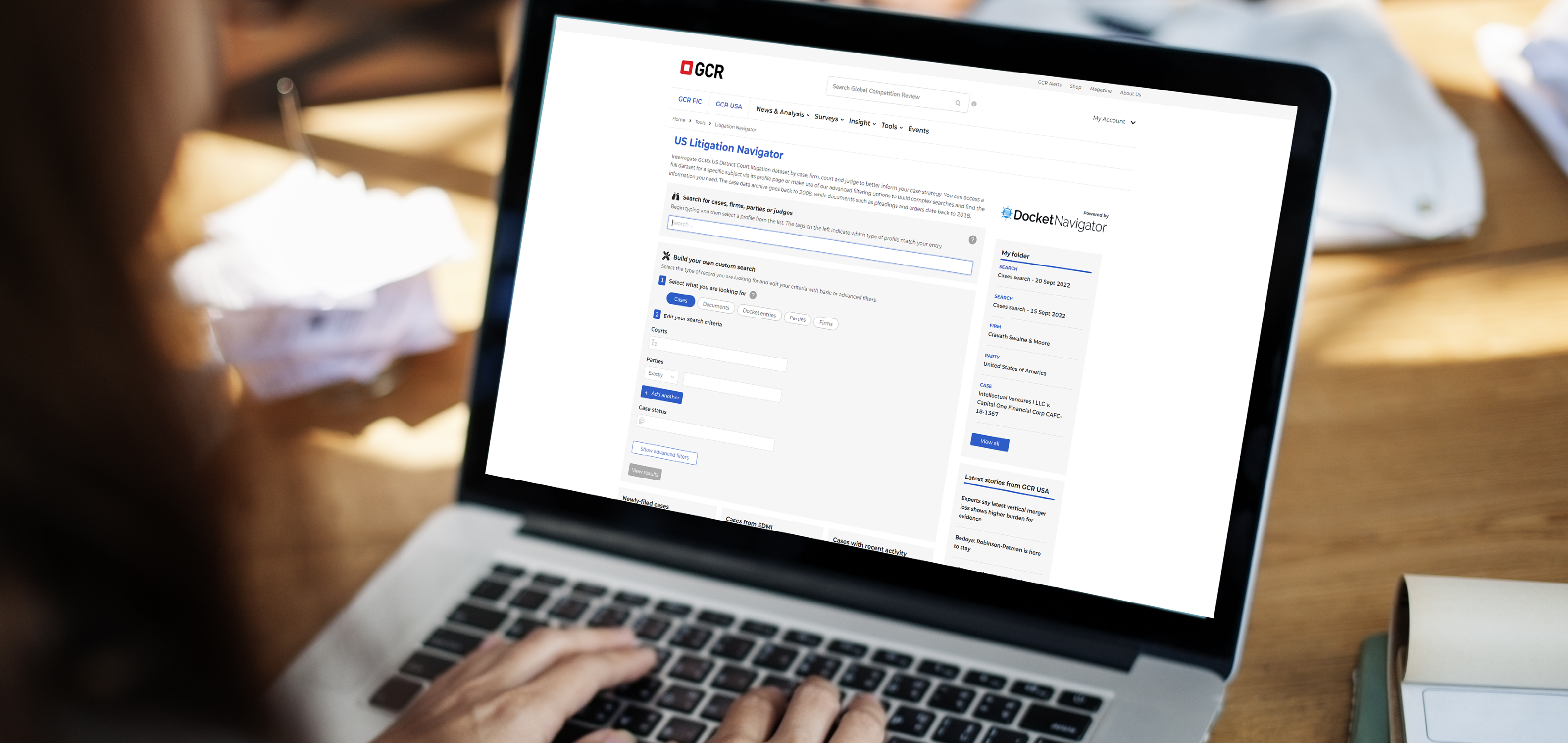 LBR is delighted to announce the launch of Global Competition Review's (GCR) US Litigation Navigator. 
This is a major strategic milestone for LBR in our wider integration with Docket Navigator, a US-based company providing data-driven insights across antitrust and intellectual property litigation, that was acquired by LBR in August 2021.  
The US Litigation Navigator collates antitrust litigation data from across the US district courts and allows users to easily navigate and search the wealth of information available on cases, judges, parties, and firms. The tool also includes docket sheets for all cases as well as pleading and order documents back to 2018. 
With the US Litigation Navigator, our users can: 
Monitor active cases of interest for new developments 

 

Carry out research to inform litigation strategy

 

Read through the summary of proceedings for historic, noteworthy cases

 

Analyse trends and assess the potential direction of travel in US antitrust litigation

 
The tool is updated with new cases and new activity in existing cases every 24 hours, and the latest data from the tool is now included in GCR's email briefings to subscribers. 
Alex Morrall, LBR's Chief Product Officer, said: "This is an exciting development for GCR users, who now have access to an intuitive, easy-to-navigate database of antitrust litigation data across the US district courts. It's also a significant step in our ongoing integration with Docket Navigator as we leverage the benefits of the combined content set for our customers." 
About GCR 
Global Competition Review (GCR) is the complete source of news, analysis and data for competition practitioners. It keeps them up to speed with the issues and trends that matter, giving them the detail, and depth, they need to operate successfully. 
About LBR 
Law Business Research is a technology-enabled information services business powering the global legal industry with intelligence, analytics and performance data. By applying the latest technology to the fast-moving legal world, we enable our users to find their competitive edge and decide with confidence, armed with the insight they need. LBR delivers trusted intelligence and insight to users around the world through a range of tools and platforms that combine proprietary data and unique analysis. We make sense of complex, fast-changing information and enhance critical decision-making. With an international team of over 400 experienced professionals, LBR has a proven track record of informing, engaging and connecting legal practitioners. 
For more information, contact: [email protected]