The global financial services industry is high-value, highly regulated, and yet also continually undergoing significant commercial and legal change with the pressures of fintech and crypto, economic instability, internationalisation and climate change all coming to bear.
Tracking those changes is the focus of Global Banking Regulation Review (GBRR), the trusted source of worldwide news, analysis and data on global wholesale banking regulation. It keeps users up to speed on the latest reforms in regulation across the board affecting the world's largest banks, helping them to advise and operate successfully. GBRR offers critical insight into the regulatory landscape with a wide range of regular reports and surveys, helping users monitor performance against their peers.
Banks and other financial services organisations use Lexology PRO daily as their research partner to track risks and monitor changes in the space, as well as to conduct deep dives into specific research topics using its proprietary AI search and breadth of tools and content. For example, users can build customised, cross-border reports with our powerful comparative Q&A tool, or access deep, thoughtful content through the In-Depth series.
Through the performance data offering, we also provide proprietary data and analysis on law firm performance based on comprehensive research methodologies.

Global Banking Regulation Review (GBRR) is the trusted source of worldwide news, analysis and data on global wholesale banking regulation.
News and Analysis
GBRR keeps users up to speed with the international issues and developments that matter, giving the detail and depth needed for clients to operate and advise successfully. Clients can understand the market by getting the inside track on the latest local and international developments with our regular summary of popular content and international reports from the world's leading law firms. GBRR also explores the likely direction of travel for banking regulation, with regular surveys of practitioners, in-house counsel, regulators and more.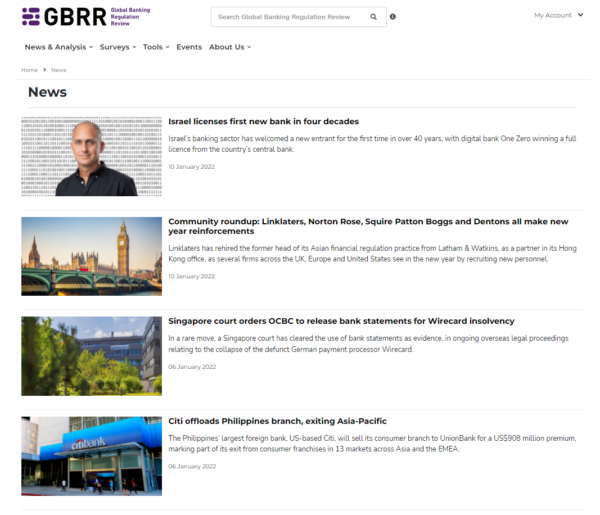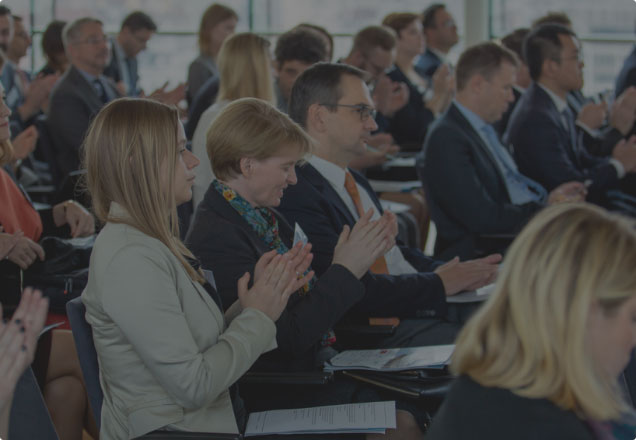 Must-Attend Events
Clients are able to connect and collaborate with the international community through GBRR Live events and hear from the guiding lights of this area, including leading regulators, policymakers, judges and practitioners.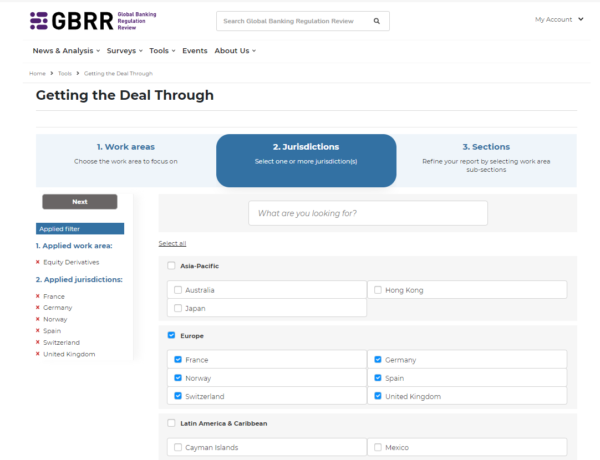 Q&A Guides
Lexology's Getting The Deal Through tool allows users to build a tailored, cross-border report of local laws and regulation in key areas of law, such as anti-corruption regulation, anti-money laundering, cryptoassets and blockchain, equity derivatives, fintech, virtual currencies, financial services litigation and financial services compliance.
With content provided by leading lawyers from around the world, users can instantly compare regulation across the jurisdictions that matter to them.