Financial distress can be sudden and crippling for companies, and negotiating the maze of international contingency planning, capital and corporate restructurings, disposals or even formal insolvency, requires a depth of local and global technical expertise and high-value knowledge, across various different professional disciplines.
Global Restructuring Review (GRR) is the trusted source of worldwide news, analysis and data for international restructuring and insolvency practitioners. Its technical guides and collaborative community research help users navigate the world's complex restructuring and insolvency landscapes, while proprietary datasets such as GRR's database of cross-border insolvency recognition decisions underpin successful decision-making and strategies in the field. A mix of deep dives into local insolvency regimes and ecosystems, and daily news on happenings around the world, keep busy international practitioners on top of what they need to know.
Lexology Getting The Deal Through's powerful cross-border research tool allows users to build customised reports, offering rich detail on local restructuring and insolvency laws and regulation in 42 countries, so you can advise quickly and accurately.​
GRR's deep analysis on the performance of the world's leading cross-border restructuring and insolvency practices is compiled using comprehensive research methodologies and backed up by proprietary data and evaluation frameworks. The suite of events and webinars allows users to sharpen their decision-making with best practice and know-how from market leaders.

Global Restructuring Review is the world's only daily news and analysis service on cross-border restructuring and insolvency law.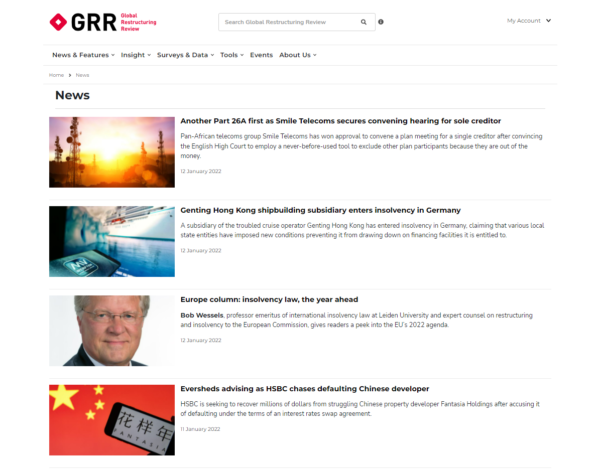 News and Analysis
GRR subscribers receive daily curated coverage of key global news and developments straight to their inbox, as well as analysis of the latest hiring trends, key players, growth areas and emerging issues. Users can also navigate the world's complex restructuring and insolvency landscapes with our technical library, collaborative community research and in-depth reviews from key jurisdictions.
Recognitions Tool
GRR's Recognitions tool is a fully searchable collection of recognition decisions from around the world.  By using the tool, users are able to quickly find out if proceedings in country "X" will be recognised in other locations. All results provide a summary of each decision plus full judicial text.
The tool has been developed with leading practitioners, including restructuring partner at Weil, Gotshal & Manges (London) LLP and GRR editorial board member Mark Lawford, who commented:
"The recognition by courts around the world of foreign restructuring and insolvency proceedings is fundamental to the effectiveness of those proceedings. In today's complex cross border restructuring landscape, and with the arrival of Brexit, this holds more significance than ever. This recognition judgment database was developed with the aim of bringing together for the first time and in an easily searchable format as many recognition judgments, covering as many jurisdictions, as possible. We hope that you will find this useful, and encourage you to contribute judgments for the database to help make it even more far reaching and comprehensive."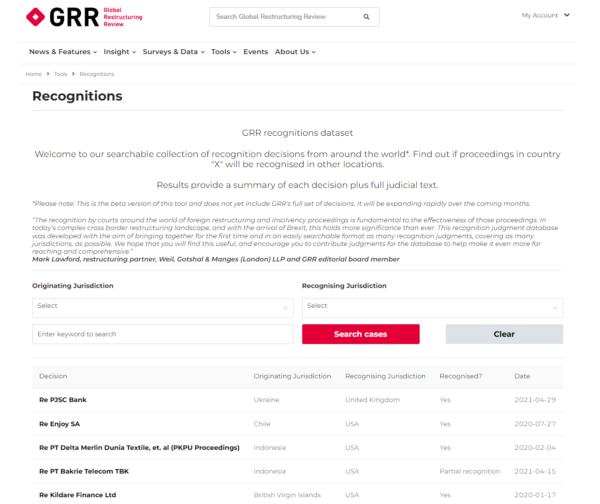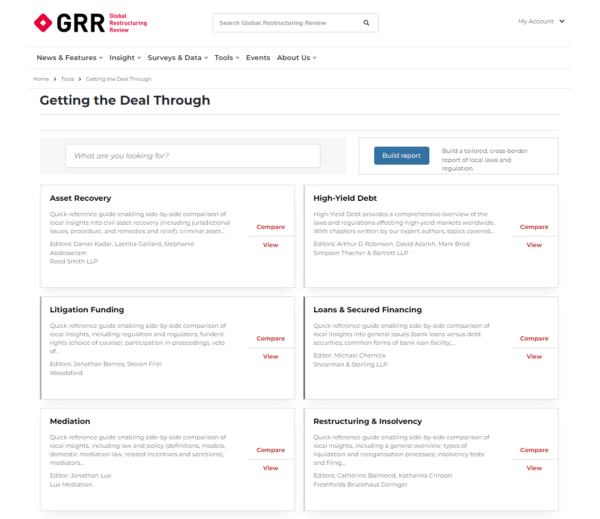 Q&A Guides
Lexology's Getting The Deal Through tool allows users to build a tailored, cross-border report of local laws and regulation in key areas of restructuring and insolvency.
With content provided by leading lawyers from around the world, users can instantly compare regulation across the jurisdictions that matter to them.